A good chassis needs a good bodywork to show off to the maximum and also get the greatest features thanks to a good aerodynamic. At Contrast we take care of aesthetics and also aerodynamic and we offer you the most effective and spectacular bodywork in market: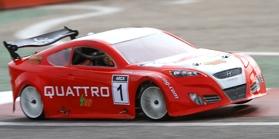 HYUNDAI GENESIS RACE
After searching for it in several national championships of real touring cars, at Contrast we have chosen the model Hyundai Genesis to start out our own bodyworks production. Due to its shape and original measures, this model perfectly fits in the large scale needs, as a soft but fast steering response, short corbels out of the wheel's axle in order to minimize the inertia forces, a high rear part in order to rise the spoiler and gaining thus downforce and a low total height in order to avoid grip rolls and reducing the gravity centre. All these improvements meet in this Genesis model. It is available in 1,5mm thickness and the 1mm ultra light version for important races. It includes a sheet of stickers with lights and all details.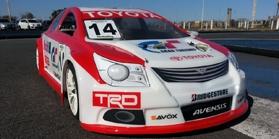 TOYOTA AVENSIS Ditodito
One of the most recent models in market. The Toyota Avensis is a bodywork with very lively reactions due to its shot length, giving the car more agility and turning.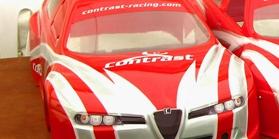 ALFA 156 Ditodito
The Alfa bodywork is a classic one. It has become the most popular bodywork, chosen by a great majority due to its neutral and docile performance.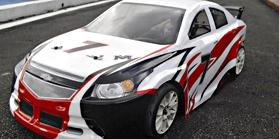 CHEVROLET CRUZE Ditodito
Based on the Touring World Champion model of 2010, 2011 and 2012, the Chevy Cruze is an attractive model with a very neutral performance. For those who want to make a difference from the majority.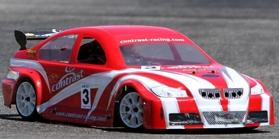 BMW 320 WTCC Ditodito
The replica of the official BMW of the World Touring Championship is one the most beautiful and real bodyworks that have been lately designed. It has a small size with few surface out from the axles of the wheels which improves enormously its working in track and at high speed. With a good aerodynamic it is a totally polyvalent bodywork for nay use, race or circuit.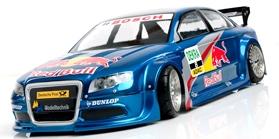 AUDI A4 by Miele
The Audi A4's bodywork is spectacular, full of aerodynamic details and with big widened wheel archs. A bodywork with a very high quality finish.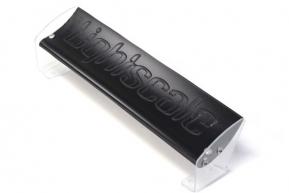 ACCESSORIES, WINGS AND DECALS
All these bodyworks have decorations with adhesives sheets for the lights and details besides the advertising decoration to choose.
They can also be complemented with carbon fibre and wing outline spoilers for a better aerodynamic working.